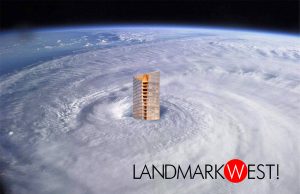 2018 ended in a flurry,
and LANDMARK WEST! met the deadline to file a Board of Standards and Appeals (BSA) challenge against
36 West 66th Street
(the tower replacing the Jewish Guild for the Blind and Congregation Habonim's synagogue).
2019 begins with the storm. While we wait for hearing dates from the BSA, we want to share key arguments made in the filing.
Read for yourself to see how our legal team challenges the void, which in this case "is the tallest ever attempted in the City, and if it is permitted, we can expect yet taller ones, constrained only by the limits of engineering".
Read for yourself to see how our legal team argues statutory purpose. In a district established for 'building heights ranging from the mid-20 to the low-30 stories' how does one get a 77-story building masquerading as 39?
Read for yourself to see how our legal team enumerates the significant health and life safety issues raised.
Read for yourself to see how the rules of tower coverage and bulk packing applicable city-wide are being selectively reinterpreted regardless of the intent.
Read for yourself to see
how the DOB's interpretation leads to absurd results
. These are all points in LW!'s
STATEMENT OF FACTS
submitted to the BSA.
In the meantime, keep in mind these additional facts:
FACT: The mid-building void at 36 West 66th Street is proposed to be 161 feet tall. For comparison, the "cavernous" and "soaring" main concourse of Grand Central Terminal, a public treasure, open to all, is merely a "paltry" 125 feet.
FACT: The Department of Buildings (DOB) has yet to amend the developer's permits beyond work for a 25-story building filed in 2016.
This means the developer still does not have the permits they need to build their planned 39-story, 775 foot tall residential tower.
FACT: We will likely always be out-resourced in funding for lawyers and consultant teams, but we do have an abundance of facts on our side…and the neighborhood! DONATE NOW to continue our advocacy to curb not only this inappropriate development but other
and help us protect the Best of the West!