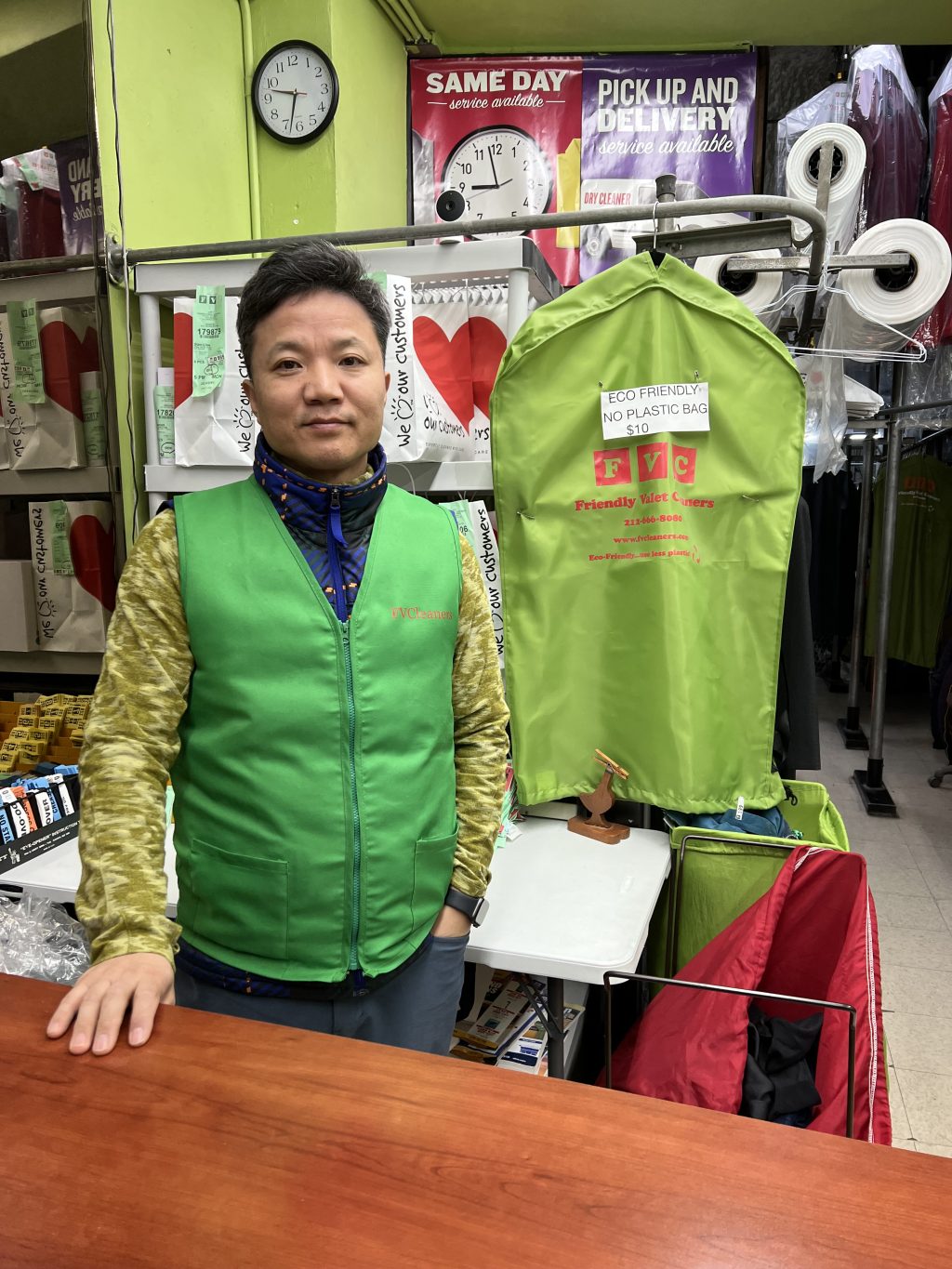 By Claudie Benjamin
An ongoing challenge confronting the dry cleaning industry is addressing the safety of the non-water chemical products used for cleaning. According to an article in the environmentalist publication, Enviro-Forensics: Turning Environmental Liabilities into Assets, dry cleaning has been known since the 1600s, and "the conversation about the industry best practices and long-term impacts are hot topics today."
Also, of concern to dry cleaners and their customers, is the matter of the use of plastic covers to wrap clothes once they've been cleaned. "Young people don't like plastic," says Sy Lee, owner of Friendly Valet Cleaners at 2725 Broadway. He suggests older customers are less concerned about the impact of plastic on the environment. And, as if to illustrate the point, one older customer entered the store with a small dog, and without any hesitation or comment, carried away several garments covered in plastic.
To appeal to those customers concerned about protecting the environment, the focus on green is very clear at this business. The walls are unmistakably green, and Sy wears a green vest with the name of the store imprinted on it. And, he displays large bright green cloth bags to carry laundry and dry cleaning. These green eco-bags cost $10, are reusable, and are easily hung in a closet ready for reuse. A sign on the wall highlights the advantages of eco-friendly dry cleaning products used at the shop: "No Perc; No Perc Odor; Non Toxic; Non Allergenic; EPA Approved; Brighter Whites; Brighter Colors and Softer clothes."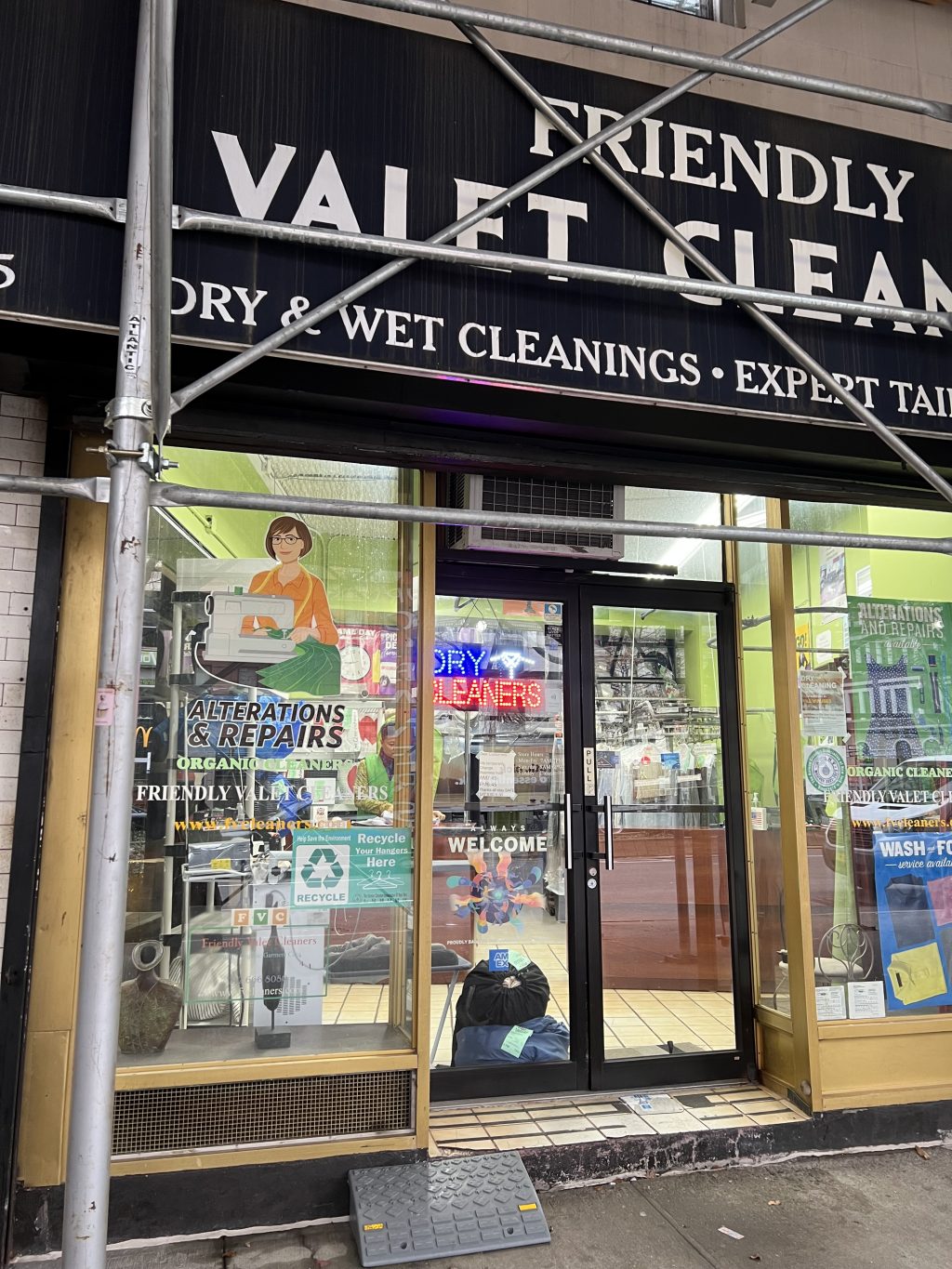 Covid definitely was a trial. With business down 70 percent during the worst of the pandemic, recovery has only been partial. Now, there are 20 percent fewer customers than before the pandemic, and they bring in fewer garments to be cleaned. Pre-Covid, Sy had three part-time assistants. He also had a tailor, a man he knows from the Korean Church they both attend in Bayshore. Now, the tailor continues to work at the store three times a week, and Sy works 11-12 hours a day. His wife comes in to assist two or three days a week.
"This is the last generation for dry cleaners," says Sy. How will people get their clothes cleaned? Sy points to a laundry bag filled with clean clothes – ready for pick-up. "Young people like "Wash and Fold" he says, suggesting the future is the augmented use of water for cleaning.
Sy came to the United States from South Korea 12 years ago. The family lived first in Georgia and then moved to NYC about six years ago. Sy trained with an uncle at the store for a year and then took over when his uncle retired.
Sy, his wife, and three college-age children live in Long Island. Their daughter, an oboist, is working on a master's degree at the Manhattan School of Music. One son is studying at Baruch, the other at Adelphi. Sy greatly values education believing it will prepare his children for good professional careers.
Sy who also owns Dorian Dry Cleaners on 110th Street, says he's thinking of retiring in another 15 years, and hopefully will move to Florida.