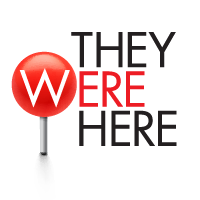 Believe It's Not Butter
by Tom Miller, for They Were Here, Landmark West's Cultural Immigrant Initiative
On June 7, 1886, developer Alexander D. Duff paid the estate of Edmund S. Hamilton $18,000 for the two lots on the eastern side of Ninth Avenue (soon to be renamed Columbus Avenue) just north of West 83rd Street. The price, equal to more than half a million in today's dollars, reflected the increasing allure of the Upper West Side, until recently barren and rocky terrain.
Duff hired architect Gilbert A. Schellenger to design two mirror-image flat and store buildings on the site. Four stories of brownstone sat upon the cast iron storefronts. Schellenger framed the openings in sober neo-Grec style architraves, each one identical to the other. He joined the two buildings with a more playful Queen Anne style pressed metal cornice with a central parapet. Stubby bosses punctuated the friezes flanking the parapet, while hefty rosettes decorated the central panel.
By the turn of the century, John Bremer's dairy store was in 485 Columbus Avenue. At the time, housewives bought butter in bulk and in Bremer's store were 40-pound barrels from which he scooped out the desired amount. On November 22, 1900, a health inspector dropped in and removed two samples of butter for analysis. Sadly for Bremer, the substance was not butter, but a manufactured compound. He swore in court that he had no idea that the dairyman had sold him artificial goods.
Five years later, The Plumbers' Trade journal, Steam and Hot Water Fitters' Review announced that Hackett & Kelly had opened its new plumbing and steam fitting establishment in the former dairy store. Next door, in 483 Columbus Avenue, was Eiseman & Co.'s wine and brandy store. The firm owned California vineyards and distillery where the wines were made.
In the meantime, the upper floors filled with an inordinate number of Irish immigrants. Mrs. N. M. Flaherty operated an employment agency from her apartment in 485 Columbus Avenue. From it, she found jobs as domestics for newly arrived Irish girls.
Later Mrs. Flaherty noted that "Margaret talked almost continually of religious matters and seemed to be somewhat mentally unbalanced on the subject."
In 1898, four sisters arrived in New York, Jennie, Molly, Mary and Margaret Gallagher. Mrs. Flaherty got them all jobs as servants. On March 14, 1904, the New York Globe and Commercial Advertiser reported, "three of them, Margaret, Jennie and Mary, saved sufficient money to enter the convent and study for the sisterhood." Molly was still working on Staten Island, but expected to enter the convent soon.
On March 13, 1904, Margaret left the convent to visit Molly, and then they went to visit the Flaherty family with whom they had kept in touch. Later Mrs. Flaherty noted that "Margaret talked almost continually of religious matters and seemed to be somewhat mentally unbalanced on the subject." Around 10:00 the girls went to bed. But then, according to the New York Globe and Commercial Advertiser, "Shortly after midnight Mrs. Flaherty was awakened by screams and the sound of breaking furniture. She went to the room where Margaret had been sleeping and found her breaking the furniture, smashing mirrors, and screaming as loudly as possible."
Mrs. Flaherty tried to seize Margaret, but she was "almost powerless in her grasp." Margaret wrestled Mrs. Flaherty to the window and tried to cast her out, along with herself. As the two women fought frantically, their screaming drew the attention of the other tenants and passersby's. Patrolman Ford ran upstairs and with Molly's help got Margaret into the main hall. "This was only done with great trouble, and in the struggle more furniture was overturned and destroyed; even in the parlor, where they passed through, considerable damage being done," said the article.
In the hallway, Margaret tried to force the policeman over the balustrade. He entwined his legs in the balusters, wrenching both knees as he fought. Other tenants rushed to his aid, but Margaret seemed to have superhuman strength. She freed Officer Ford's legs and threw him, along with herself, down the staircase to the first floor.
Three more policeman arrived, finally overpowered Margaret, and placed her in a patrol wagon. "Her exertions had caused many minor wounds…and her night dress was torn almost completely from her," said the article. "She was wrapped in blankets."
Undaunted by the frightening affray, Mrs. Flaherty continued to place Irish girls in domestic situations from her apartment at least through 1919.
Irish-born William Garrity lived at 485 Columbus Avenue in 1907 when he instigated what The New York Press called "a race riot" on the night of July 19. He and a friend were at 61st Street and Amsterdam Avenue when they made racist jeers at a passing Black couple. The husband, named Harris, "left the woman and attacked the men," according to the article. "As soon as they began to fight negroes and whites ran out of their houses and banged right and left." The melee rapidly intensified as "knives and clubs were used without stint."
By the time police arrived and "clubbed the crowd back," there were 15 injured, six of them seriously enough to be hospitalized. William Garrity was stabbed in the right side of the neck. His injuries, while serious, were not fatal and he was charged with inciting a riot.
In 1921, the extended Connors family arrived in New York from Ireland and moved into 483 Columbus Avenue. Living with their parents were 25-year-old Patrick, who found a job as a bookkeeper for B. Altman & Co., Michael Connors, and his wife and baby. Patrick had been a member of the Irish Republican Army and had been imprisoned for a while by the British. According to Michael's wife, "we left on account of the persecution of the Black and Tans." (The Black and Tans were constables of the Royal Irish Constabulary.) But another relative said Patrick was forced to leave "because of threats of death."
Although Patrick Connors was described by his family as "a quiet man [who] never mixed with a rough crowd," his past followed him to America. Beginning in February 22, 1922, mysterious men were seen loitering around the front of the building.
Michael Connors told investigators that Patrick had been shot by Sinn Feiners who believed he had given Irish military secrets to the British while he was imprisoned
At around 8:00 on the night of April 13, Patrick Connors went for a walk in Central Park. The New-York Tribune said a woman who was walking about six feet behind noticed that he hesitated "as though seeking to avoid" meeting a man who had appeared in their path. "It was too late, however, for the man had recognized him," said the article. "'I've got you now,' the woman heard the gunman cry.'"
Connors was shot four times. The gunman escaped, although "pursued by a crowd." In the hospital, where he was given only a "slight chance" of recovery, detectives interrogated Connors, but he would not give a statement. "To all questions about the motive for the shooting he shook his head," reported the New York Herald. Michael Connors told investigators that Patrick had been shot by Sinn Feiners who believed he had given Irish military secrets to the British while he was imprisoned.
Following the repeal of Prohibition, Irish immigrant James Feerley opened The Clengablin Bar & Grill in 485 Columbus Avenue. At the same time, the Crystal Dry Cleaners operated from 483 Columbus Avenue.
Frank and Elizabeth Crabbe lived in 483 Columbus Avenue in 1942. Frank made his living as a railroad brakeman. On May 4 that year, he took his 24-year-old wife to Beth David Hospital where she died three days later. An autopsy revealed she had had an abortion. Frank not only had not known about the illegal operation, but that Elizabeth was pregnant. Investigators tracked down Dr. Phillip Suffin of the Bronx, who was arrested and charged with homicide.
In the 1980's the designer clothing store Carol Rollo Riding High operated from 483 Columbus Avenue while next-door was the Chinese restaurant, Empire Szechuan. By 1991 Really Great Things, another designer fashion store, was in 483 and in 1992 the Italian restaurant Isola Italian opened in 485 Columbus Avenue. It would remain until 2006. Cilantro Mexico restaurant opened in that space by 2014, and the Italian restaurant Bellini opened in 483 Columbus in 2021.
---
Tom Miller is a social historian and blogger at daytoninmanhattan.blogspot.com
LEARN MORE ABOUT
483-485 Columbus Avenue
Be a part of history!
Shop local to support the businesses currently at 483-485 Columbus Avenue: