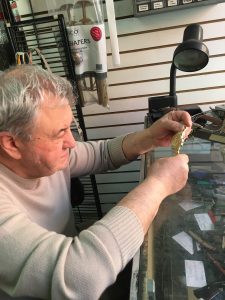 By Claudie Benjamin
Whether nostalgia for the pre-gentrified Columbus Avenue of years ago tugs at your heart or if you're just curious about the way it was, the shoemaker/ watch repair/ keymaker all under the name Express Shoe Repair at 549 Columbus Avenue, gives you a satisfying flashback.
Not that it's unknown, in addition to its local regulars, customers who once lived in the neighborhood come from New Jersey and the Bronx for their shoes to be repaired, watches fixed and spare keys made.
There is a very personal, genuineness that comes across, an experience that's a bit like reading a delicious out-of-print novel by a forgotten author you've discovered in a thrift shop.
Ilya Suylov opens the shop early. He enjoys the breakfast he set out on a napkin on the front facing counter. Prominent is a distinctive, Uzbek blue and white porcelain teapot in which black tea is brewing. The spread also includes hard boiled eggs, walnuts and dried fruit.
The first customer of the day is clearly a regular. He drops off a pair of well loved brown leather loafers. They need to be shined and on Llya's suggestion the rough inner edge of the shoes will be replaced. The customer is asked to return in an hour. The shop is only big enough to accommodate two, possibly three people.
Mostly Ilya works alone. Occasionally his son comes in to assist. He enjoys working in this neighborhood. "They're good people. I like them," he says, adding that increasing numbers of young people are making their homes here. On entering, to the left, is the shoe repair counter used for cutting leather. Along the right wall is the key making operation, combined with a full range of vintage wooden shoe forms hanging within easy reach as needed. In the front window rows of watches are displayed.
Seated at the counter above the watch display, Ilya that faces out to the street. This three-in-one shop is just like the one his father owned for 49-50 years in Tashkent, Uzbekistan. Ilya's training? "I looked. I learned."
Ilya opened his first store in Manhattan in 1995. It was located in the 90s on Columbus Avenue. About seven years later, the store he currently occupies between 86th and 87th Streets was up for lease and he settled in with his tools, supplies and machines needed for sewing leather and cutting keys.
The structure of the store itself is notable because it's one of a diminishing number of places of business that were squeezed in between the air shafts or alleyways separating two sister apartment buildings.
Ilya works 8am-6:55pm M-F and 9:00am-6:00pm on Saturday. The shop is closed on Sunday. He's a charming man who has been working at this tri-part business for a long time time. It makes you want to bundle up your dusty leather boots, reach for your old, but possibly fixable, watch that hasn't worked for years and retrieve that front door year key to make a spare…and head over to Ilya's.