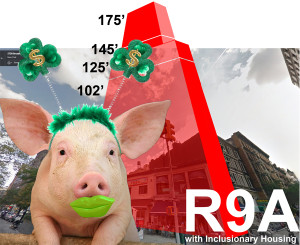 MAYOR DE BLASIO'S HEIGHT INCREASES
WON'T IMPROVE QUALITY OR AFFORDABILITY*
Yet, there is talk of a "deal" on sweeping citywide zoning changes
Zoning for Quality and Affordability
(ZQA) and
Mandatory Inclusionary Housing
(MIH)
and reports that the City Council could vote to approve these proposals
"with tweaks" at meetings scheduled this
Thursday, March 17
(no official announcement has yet been made
and details of the "tweaks" have not been released)
In the meantime, help send City Council Members the message
SAY "YES" TO COMMUNITIES**
SAY "NO DEAL" ON SENSELESS, DEVELOPER-DRIVEN PUBLIC POLICY
**Community Boards and Borough Presidents across the city voted overwhelmingly AGAINST ZQA & MIH. The Real Estate Board of New York is among the staunchest advocates of the proposals, which, if passed, would incentivize tear-downs and new development that is significantly out of scale with existing neighborhoods throughout the city Especially at risk are the contextual and historic districts we've all worked so hard over many decades to protect.
Write to City Council Members today! Our Greenwich Village colleagues have created a handy
one-click email tool
you can use to send a customized message to the entire City Council and other key officials.
As approved by the City Planning Commission in February 2016,
ZQA targets
more than half
of the whole Upper West Side!
As an Upper West Sider, please also send a special message to each of our local representatives:
Here is a sample:
I urge you to stand strong against Mayor de Blasio's plan to weaken zoning protections and allow height limits within Community Board 7 to be raised by 20-30%. I am deeply concerned about the disproportionate impacts the proposed "Zoning for Quality & Affordability" plan would have on the Upper West Side, toppling our community's hard-won zoning and historic district protections, with no serious study or disclosure of how the changes would affect our neighborhood's human scale, livability, and unique sense of place. This is not the way to ensure affordability, architectural quality, and quality of life in our city.
Sincerely, [Name, Address]
___________________________________________________________