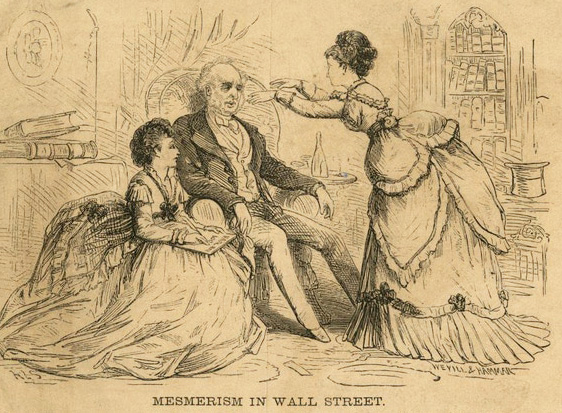 In 1868, a spirit's guiding hand led two sisters to New York City, to a home on beautiful Washington Square–an address reserved for the elite of the Gilded Age. Behind its doors lived the richest man in America, Cornelius Vanderbilt. Vanderbilt sized up the ladies, Victoria Woodhull and Tennie Claflin, as sophisticated and savvy and, perhaps surprisingly for someone of his social circle, took them under his wing. Woodhull tended his spiritual needs, which included communing with his dead mother. Claflin attended to other desires. In return, Vanderbilt tutored his new friends in the ways of Wall Street.
Thus began a relationship that lasted until Vanderbilt died seven years later – and even followed him into the grave. With their patron's support, the sisters opened a brokerage firm on Broad Street, becoming the "Lady Brokers." Next, Vanderbilt funded their journal, Woodhull & Clafin's Weekly. And with that foundation, both sisters began political careers, with Woodhull revolutionizing the women's suffrage movement and running for president of the United States.
In what is clearly a tale that must be heard straight from the author of A Dirty Year: Sex, Suffrage, and Scandal in Gilded Age New York, Bill Greer traces for us the tumultuous relationship between the sisters and their patron, a relationship that launched Woodhull on her path to becoming "the best known woman in America" and "the most remarkable woman of the age." And who, along the way, generated one of the greatest sex scandals in Gilded Age history.