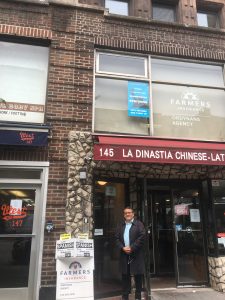 By Claudie Benjamin
20 years ago when Michael R. Bloomberg was first running for New York City Mayor, he recognized a need to learn some conversational Spanish to gain credibility with the city's significant population of Latino voters. The teacher he chose was Juan Carlos Ayarza, on the recommendation of an employee.
Lively and engaging, Juan Carlos, now long a US citizen, came to NYC in 1985 as a 22-year immigrant from Peru. He enrolled for a time at Queens College and gained Spanish teaching experience as an instructor at Berlitz and other well-established language schools.
He then developed his own effective "hola" teaching method for adult education and opened his school OleHola, which has been located on 72nd Street for 25 years. For the first 11 years the school was at 162 West 72nd Street, 2nd Floor, and since 2007 it has taken up multiple rooms on the second floor at 145 West 72nd Street. Juan Carlos, his wife and their 10-year-old son have lived in a West 75th Street brownstone home for a long time. As Juan Carlos's adventures relating to teaching were described in a 2001 New York Times article, during the months Juan Carlos was tutoring Bloomberg, some of the most intense lessons were taught aboard Bloomberg's private jet where Juan Carlos traveled "a seven-day world tour" from NY that included a stop in London, then on to Singapore, Hong Kong, Delhi and Hawaii. Bloomberg's idea was to make optimal use of the travel time. Back home lessons continued at Bloomberg's East 79th Street home.
Later, Juan Carlos's skills as a Spanish teacher/interpreter also took him to Mexico City to assist a Pakistani entrepreneur in the garment industry establish a presence in Mexico.
Other OleHola students who have learned Spanish at home or in their offices included, according to the New York Times, "executives from Tommy Hilfiger, Chase, ABC News, the Guggenheim Museum, Citibank, the United States Mission to the United Nations and Ruth W. Messinger, the former Manhattan Borough President."
"We have students from kids to seniors. Most students are over 60," says Juan Carlos. "They want to stay mentally alert, to travel and some may have a house in Mexico."
The key to Juan Carlos's teaching method is that conversation comes first. In fact, conversation starts even from the earliest trial class with a total beginner. Juan Carlos explains, "All classes are recorded on cell phones by participants so that they can practice comparing their pronunciation with the instructor's."
Instructional books developed by Juan Carlos support his emphasis on conversation and additional materials have been developed to prepare psychologists and others to take bilingual certification exams. Support materials have also been developed to meet the needs of health care professionals and attorneys who want to improve their ability to communicate in Spanish.
Pre-Covid many students came to small groups or private instruction at the 72nd Street location. Some of these and others participated in weeklong group tours with Juan Carlos to his native Lima and Machu Picchu, the 15th-century Inca citadel in Southern Peru, and other Latin-American countries.
During the pandemic, and still in effect are virtual classes which some people prefer. "There are pluses and minuses," says Juan Carlos who misses the in person interactions with students but also appreciates the new opportunity it gives him to continue to work remotely.
Check the school out at www.olehola.com for your free trial class.