Landmarks Applications
Certificate of Appropriateness
Join our C of A Committee
Does the thought of shaping changes in our neighborhood interest you?  LW's C of A Committee members are key players in shaping the Upper West Side's future.  We welcome architects, designers, historians, attorneys, real estate professionals and anyone interested in volunteering skills and expertise in the pursuit of stewardship of our neighborhood.  The Committee typically meets monthly to review all applications for changes to landmark sites within Community District 7 scheduled to be heard at the Landmarks Preservation Commission, Art Commission and other public forums. Email Sean Khorsandi seankhorsandi@landmarkwest.org, or call (212) 496-8110 for further details.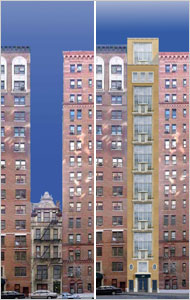 The Board of Standards and Appeals (BSA) ruled yesterday that in fact no, there will not be a sliver building rising at 330 West 86th Street anytime soon. As reported in the West Side Independent, the BSA stops a 17-story building from being erected on a 20...
read more

UPDATE :: Central Park tennis bubbles, two months laterAs reported by Cristiana P.The West Side Independent picked up on LANDMARK WEST's email blast yesterday reminding the public about the brief yet intensely focused and ultimately successful battle waged this past...
read more