Landmarks Applications
Certificate of Appropriateness
Join our C of A Committee
Does the thought of shaping changes in our neighborhood interest you? LW's C of A Committee members are key players in shaping the Upper West Side's future. We welcome architects, designers, historians, attorneys, real estate professionals and anyone interested in volunteering skills and expertise in the pursuit of stewardship of our neighborhood. The Committee meets to review all applications for changes to landmark sites within Community District 7 scheduled to be heard at the Landmarks Preservation Commission, Public Design Commission and other public forums. Email Sean Khorsandi seankhorsandi@landmarkwest.org, or call (212) 496-8110 for further details.
REPORT from the FIELDBy Cristiana P.The hearing room was filled to capacity (and beyond!) yesterday as the Landmarks Preservation Commission (LPC) held the first of, ultimately, three public hearings to seriously consider historic district extensions on West End...
read more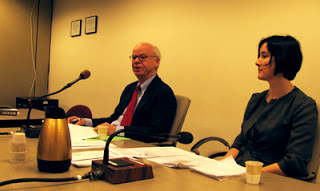 More work and less resources--so continues the saga of the LPC's funding history. At public hearing of the City Council's Land Use Committee, LPC leadership presented a preliminary budget for FY 2012. The jist: with less staff and insufficient funds ......
read more